PRESS RELEASE – THE RIVET MOTORCYCLE FOR A CROSS-COUNTRY RIDE

FOR IMMEDIATE RELEASE
ICON WILLIAM SHATNER PARTNERS WITH AMERICAN WRENCH TO CREATE THE RIVET MOTORCYCLE FOR A CROSS-COUNTRY RIDE
TO BENEFIT THE AMERICAN LEGION
8-Day Ride Set To Kick Off From American Wrench Shop On June 23rd
(June 1st, 2015 – New York, NY) The legendary Hollywood icon that captained the Starship Enterprise for over 30 years, William Shatner, is teaming up with American Wrench to create the first-of-its-kind Rivet motorcycle. In conjunction with the release of Rivet, Shatner will be riding across the country to showcase the machine on the open road. The ride will kick off on June 23rd from the American Wrench shop just outside of Chicago. "The Ride" will be an 8-day journey showcasing Rivet in various cities across the United States and will be following the legendary
Route 66 for most of the trek.
Accompanying Shatner on the ride will be some of the team from American Wrench and members of The American Legion Riders. Shatner will be meeting with Legion members along the route to raise awareness for the work The American Legion does nationwide. The journey will be making stops in St. Louis, Kansas City, Oklahoma City, Amarillo, Albuquerque, Flagstaff, Las Vegas before wrapping up in Los Angeles on June 30th.
"I am taking another step into the unknown!" said Shatner. "A phenomenal bike made by American Wrench and a 2,400 mile journey, where the road holds the big mystery."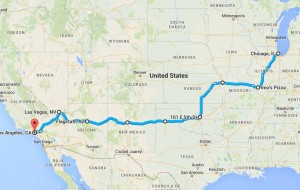 The machine, straight from the creative brain of Shatner alongside American Wrench owner/designer Kevin Sirotek, is the ultimate landjet and unlike anything the world has seen before. A video describing what Rivet is can be seen at: http://www.rivetmotors.com/what-is-rivet/.
"Having this unique opportunity to design and build a custom machine for William Shatner, we knew it had to be nothing short of amazing," explains Sirotek. "Our vision with Rivet is simple, to give the most thrilling motor experience possible."
The journey will also be documented for an upcoming television show. The show will follow Shatner and company on their voyage through each city and traveling along the route. There will be opportunities in each city for people to come out and see the Rivet in person and meet Shatner and the riders. More information on this will be available in the future at AmericanWrench.com and RivetMotors.com. Fans can follow Shatner on twitter page at @WilliamShatner and Rivet Motors at @RivetMotors for up to date announcements.